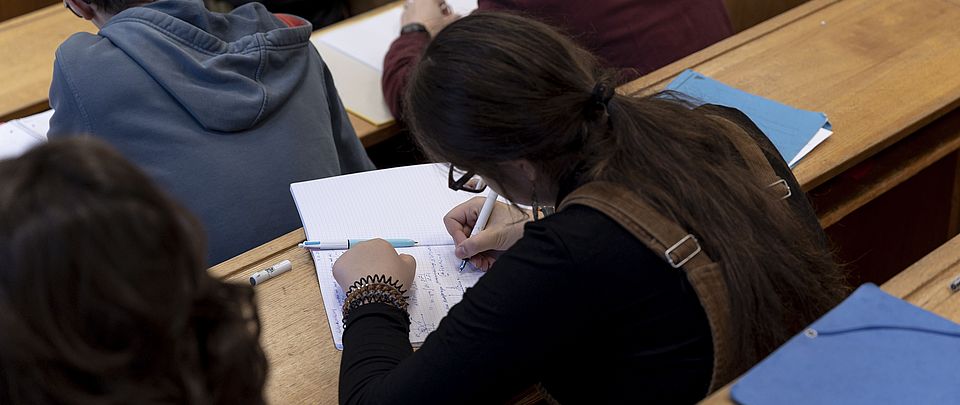 Seven reasons why you should study Physics in Basel
1. Excellent Student-to-Staff Ratio
From the first semester on our students benefit from an excellent student-to- staff ratio that is unique both on the national and international level. It allows the students to get in touch with our research groups early on in their studies. The study-friendly environment makes the Department of Physics an attractive choice for students from Switzerland and all over the world.
2. Renowned Lecturers
Our renowned professors and lecturers enjoy an outstanding reputation both nationally and internationally, bringing their keen knowledge of the latest and most topical science to their teaching. The Department's activities in top-level research often directly influence the lecture material.
3. Proximity to Research
The concentrated research activities in our Department allow us to offer a variety of courses on state-of-the-art research topics in nano- and quantum physics, as well as in cosmology and particle physics. The close connection between teaching and research is also exemplified by practical research courses, taking place directly in the labs of our research groups, and which are available to our students even early on in the degree program.
4. Interdisciplinary Studies
Students at our physics department also take courses in other disciplines. The Departments of Physics, Biology, Chemistry, Mathematics and Informatics teach a wide variety of complementary lectures and these departments also offer the two interdisciplinary degree programs of nanosciences and computational sciences. Our students also have access to courses offered by other faculties e.g. in the humanities or social science.
5. Excellent Job Perspectives
Our graduates are in high demand nationally and worldwide, and are excellently-placed for successful careers based on the knowledge and skills they acquire at the department. The numerous research institutes and technology companies in the greater Basel area offer a multitude of world-class job opportunities right around the corner.
6. Tradition
Study at a department with a long tradition, where teaching and research in physics started in the 17th century with world renowned researchers like Daniel Bernoulli and Leonhard Euler. The tradition of research and teaching at the highest international level continues today within the research areas of nano- and quantum physics as well as cosmology and particle physics.
7. University of Basel - City of Basel
The University of Basel offers attractive, high-quality degree programs and many additional benefits, e.g. affordable sports programs and language courses. It is located in the center of the city of Basel – a highly livable and truly international city of manageable size, with a high quality of life and a rich variety of scientific, sporting, and cultural events and activities which often offer student discounts.
Study Counselling for Prospective Students
Before starting to study many general questions may arise (e.g. academic and/or career aspirations etc.). In case you do not yet decide if you are going to study or which degree course is the right one for you, you can contact the University of Basel's general study counselling office. Currently the website is only in German, yet study counselling is provided both in English and German.
For questions specifically regarding studying physics, please contact our study advisor.
Furthermore, various departments at the University of Basel offer information and advice on a range of subjects relevant to prospective students, bachelor and master students, as well as PhD students.
Honors Track for Physics Bachelors
For particularly talented and motivated students, the Department of Physics offers an "Honors Track" for Bachelor students. More information is available here.
Schülerstudium
Schülerinnen und Schüler können am Schülerstudium der Universität Basel im Rahmen des Begabtenförderprogamms der Schulen teilnehmen.
Teilnahme an Lehrveranstaltungen (genannt 'Belegen')
Das Antragsformular muss sämtliche Lehrveranstaltungen aufführen, die an der Universität Basel im entsprechenden Semester belegt werden. Die Nummern und Titel aller Lehrveranstaltungen sind im aktuellen Vorlesungsverzeichnis zu finden.
Studierende des Schülerstudiums zahlen keine Gebühren. Details zu Gebühren der Universität Basel ausserhalb des Schülerstudiums finden sich hier.
Zulassung, Anmeldung, Gebühren
Die Aufnahme von Schülerinnen und Schülern zum Schülerstudium an der Universität Basel im Rahmen des Begabtenförderungsprogramm erfolgt via Antragsformular, das Sie bei der für die Begabtenförderung zuständigen Lehrperson Ihrer Schule erhalten.
Die Aufnahme gilt jeweils für ein Semester. Für ein allfälliges weiteres Semester ist erneut ein Antragsformular einzureichen.
Erwerb von Kreditpunkten
Die erfolgreiche Teilnahme an einer Lehrveranstaltung führt zum Erwerb von Kreditpunkten. Die Anzahl der Kreditpunkte und die Bedingungen für eine erfolgreiche Teilnehme finden sich im Vorlesungsverzeichnis. Achtung, für bestimmte Lehrveranstaltungen muss man sich fristgerecht anmelden.
Wichtig! Im Schülerstudium erworbene Kreditpunkte werden bei späterer Aufnahme eines Studiums an der Universität Basel automatisch in das Leistungskonto übernommen.
Datenabschrift
Jeweils Ende Februar und Ende August werden den SchülerInnen ihre Studienleistungen und die Kreditpunkte, die sie damit erworben haben, in einer Datenabschrift ausgewiesen. Diese wird per Post zugestellt.
E-Mail-Account der Universität Basel
Teilnehmer und Teilnehmerinnen am SchülerInnenstudium erhalten mit Registrierung automatisch einen E-Mail-Account an der Universität Basel. Zugang und Passwort werden per Post mit separatem Schreiben zugestellt und ermöglichen unter anderem auch den Zugang zu 'ADAM', wo zahlreiche Lehrmaterialien gesammelt sind.
Wichtig
Die Informationen auf dieser Webseite sind nicht rechtlich bindend und entsprechen eventuell nicht mehr dem aktuellsten Stand. Bitte konkaktieren Sie die Unterrichtskommission für genauere Informationen.