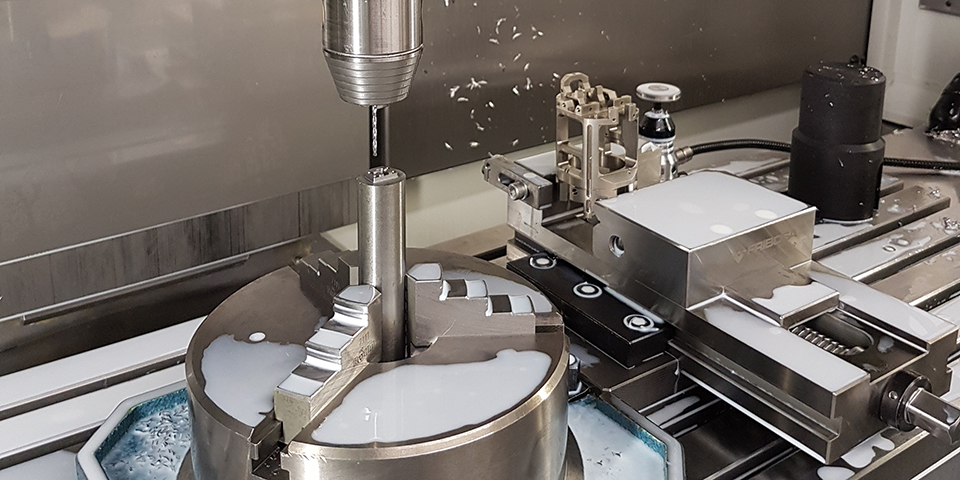 Mechanics Shop
The mechanics shop consists of a small team of specialists, including 4 employees and 4 apprentices. The latter are being trained as polytechnicians during an apprenticeship period of 4 years. Our machinery consists of modern CNC milling and rotation centres as well as conventional machines.
Our main tasks are:
part production
education of apprentices
service and maintenance in the laboratory sector
production and supervision of in-house liquid gases.
Our strengths are the efficient production of complex components and small series on the one hand, on the other hand our long-time experience in the areas of low temperature (LT) and ultra-high vacuum (UHV) technologies as well as in the development of new scanning probe microscopes.
Due to our very small and flexible team of professionals, we are able to realize complex concepts and wishes of the individual research groups quickly and efficiently. With our modern CAD technology in construction and development as well as modern CAM software, in conjunction with our CNC manufacturing machines, we provide very productive services and results in high-quality for our discerning customers of the Department of Physics. Upon request we advise our clients on technical matters only and offer our assistance in questions about problem solving and development tasks.
Customers
Our main focus is providing our diverse services to the Department of Physics, e.g.: Contributing to the custom-built Scanning Nanowire Microscope and the first custom-built Magnetic Resonance Force Microscope for the research group of Prof. Martino Poggio
Yet we also realize smaller projects in close collaboration with other departments of Basel University. The following departments and institutions are among our customers:
Department of Physics
University of Basel
Klingelbergstrasse 82 (ground floor 0.9)
4056 Basel, Switzerland
T +41 (0)61 207 36 75
F +41 (0)61 207 37 84