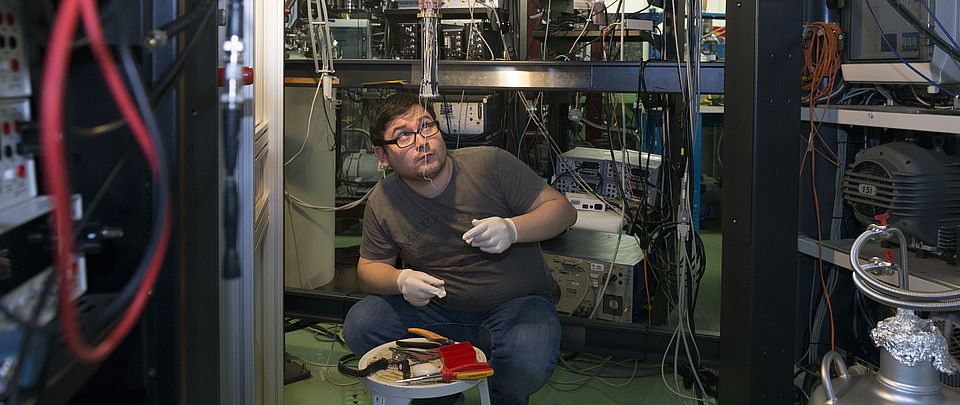 If you are interested in doing a PhD in Physics at our Department, the first steps to get admitted to the doctoral degree program, are to:
Verify if you are eligible for the Physics doctoral degree program.
As a condition for admission into the Physics doctoral degree program, the University of Basel requires a master's degree (usually, but not necessarily, in Physics) or a degree considered equivalent to a master's degree. Click here for details or contact the admissions' office for specific information.
For applicants holding another type of degree, the admissions committee of the Faculty of Science decides case-by-case whether the degree can be considered equivalent to a master's degree. A bachelor's degree in general is considered insufficient for an admission into the doctoral degree program.
Identify the field of research you are being interested
Apply directly to the professor heading the group (PI) your are interested and qualified to work in. Include in your application: a letter of motivation, your CV, and 1-2 references.
Applicants who are eligible for the Physics doctoral degree program, whom the PI of the respective research group has approved, do not have to undergo any further examinations. Admitted applicants will be employed at the Department of Physics by the University of Basel.
Doctoral students in general must earn at least 12 credit points (CP), those in a PhD program/school at least 18 CP respectively, in order to fulfill the requirements of the Faculty of Science. They are encouraged to follow advanced courses (offered for the master degree program) to extend or deepen their knowledge. Also, once applicants have found a PhD advisor and once applicants have met the admission criteria as described in the above paragraph, no further examinations are usually required for admission into the PhD program.
Doctoral students who come from a EU/EFTA country need a residence permit and a work permit. In addition to that, students from countries other than the EU/EFTA usually need a visa to be allowed to study, work and live in Switzerland.
Please consider that both processing permit and visa applications can take up to several weeks. Make sure you handle your application in a timely manner.
Please click here for more general information on studying in Switzerland.
Matriculation is compulsory for doctoral students at the University of Basel. They have to be matriculated at the earliest possible date and remain enrolled for the entire duration of their doctoral studies. Click here for further information regarding the matriculation.
The tuition fee at the University of Basel for doctoral students is currently CHF 350 per semester. Click here for details on tuition fees.
In general all doctoral students at our Department will be employed, usually as a teaching assistant, with a salary sufficient to cover the cost of living and studying in Basel. The teaching activities total between half-a-day to a day per week during the semesters (e.g. teaching exercises, laboratory courses or other educational activities). These teaching activities can be performed in German (and English). Employment outside the Department for students on a visa is usually not allowed.
English is the main language at the Department of Physics. The knowledge of German (the official language of Basel) might be helpful in everyday situations, yet it is not required for the participation in research projects on the PhD level. Our Department hosts a diverse community of scientific personnel originating from a large number of different countries.
Basel lies in the heart of Europe, in the center of the idyllic border triangle of France, Germany and Switzerland, on the banks of the river Rhine. The Department is located within the city, close to the center. Basel is a small but mighty city that is offering a rich and very diversified range of cultural events and countless options for outdoor activities and excursions. The city has a long tradition of hosting international fairs and events and is also a thriving center for start-up and tech companies (e.g. Nanosurf, Rolic, CSEM).
Click here for more information on living and working in Basel.