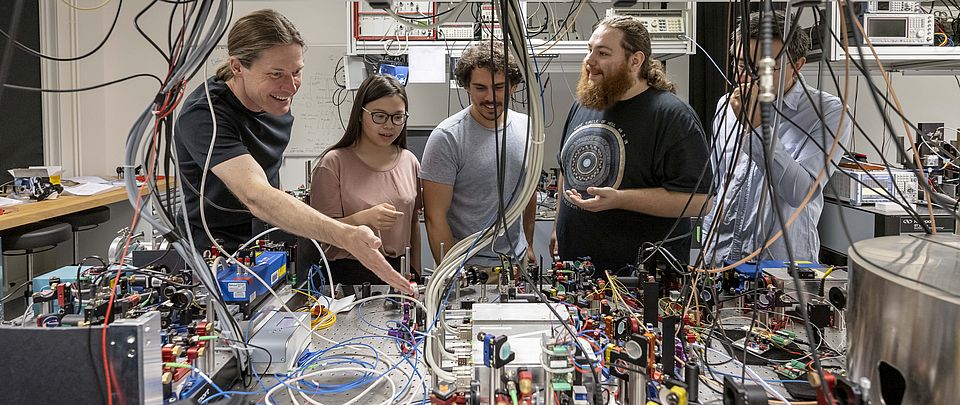 The degree program Master of Physics consists of two semesters of lectures (60 credit points) and one semester of work on a Masters thesis (30 credit points), requiring typically a total of 1.5 years to finish. One may begin the Masters degree program in fall as well as in spring. Prerequisite for admission into the Masters degree program is a Bachelors degree in physics.
For more detailed information regarding the Master in Physics and the above listed components, please click here.

Admission, Application, Tuition Fees
Regulations can be found in the Regulation of the Faculty of Science for the Masterstudy and the Study Plan for the Master in Physics both only available in German. More details are described in the study guidelines.
For admission into the Masters degree program, a Bachelors degree (usually, but not necessarily, in physics) from a recognized university or institution is required. For applicants holding a Bachelor's degree from other universities or for applicants holding a different degree that may be considered equivalent to a Bachelor's degree, the admissions committee of the Faculty of Natural Sciences will make a decision on a case by case basis. Please, see more details here.
The application for the Master of Physics is done online. Details on tuition fees are found here. Usually, deadlines for the application to the Master of Physics are 30th of November for starting in spring 30th of April for starting in fall.
The language of instruction of Masters courses, proseminars as well as department seminars and colloquia is generally English, though some courses may be taught in German, particularly the elective courses to be taken outside the Department of Physics. The scientific language used at our department is generally English, and participation in research projects will not require knowledge of the German language. More information for international students is available here. Currently, foreign Masters students staying in Switzerland on a student VISA need to be enrolled full time and are not allowed to work, except for a very limited time. Further, University rules do not allow employment of Masters students at the Departments. Therefore, Masters Students need to bring the financial means to support themselves while studying towards a Masters degree. Part-time employment, for example as a student-aid, may in some cases be possible. However, funds earned in this way will not at all be sufficient to pay for the cost of living.
Head of the Studies Committee
Important
The information on this website is not legally binding and may not reflect the most recent changes in the study regulations (Studienordnung). To obtain more information and in case of questions, please contact us.