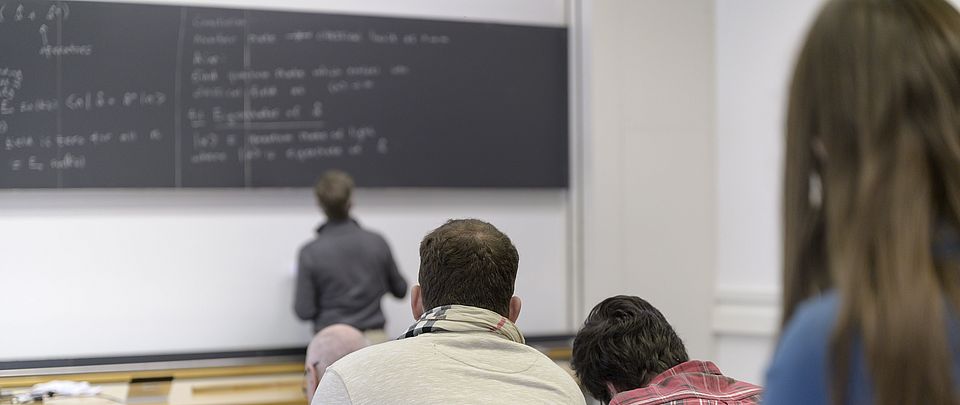 Welcome to studying Physics in Basel
The training of physicists is one of the key missions of the Department of Physics. Students studying Physics at our Department receive a solid basic education in the Bachelor degree program and can choose between many cutting-edge lectures in our main research topics, Nanophysics and Quantum Physics as well as Cosmology and Particle Physics.
In the Master degree program, students extend their knowledge and start their own research in the master project and master thesis within one of the two main research areas.
At our Department, we focus on
a close relation of teaching and research,
excellent assistance and supervision,
cutting-edge and interdisciplinary degree programs.
Spring semester 2023
| | |
| --- | --- |
| Academic semester: | 01.02.23 - 31.07.23 |
| Lectures: | 20.02.23 - 02.06.23 |
| Basler Fasnacht: | 27.02.23 - 03.03.23 |
| Easter break: | 06.04.22 - 10.04.22 |
Fall semester 2023
| | |
| --- | --- |
| Academic semester: | 01.08.23 - 31.01.24 |
| Lectures: | 18.09.23 - 22.12.23 |
| Christmas break: | 25.12.23 - 02.01.24 |
Physics bachelor and master students with an outstanding average of grades and proven personal engagement can apply for travel stipend of the Department of Physics, e.g. for the participation in an international conference abroad.
In general eligible for the travel stipend are...
...Physics bachelor or master students matriculated at the University of Basel,
...who show an outstanding performance and
...who are able to demonstrate the additional benefit of their travel for their studies.
Applications for a travel stipend are being accepted on a continuing basis. The applications have to be admitted at the latest 6 weeks before the departure date of the intended travel.
In case you want to apply for a travel stipend, please submit, timely and complete, the following documentation:
CV
Copy of your track record
Information about the purpose/aim of the travel
Motivational letter (max. 500 words) in German or English
Travel budgetr
Please send all applications and questions reg. the travel stipends via email to the Physics Studies Committee.
There are no legal claims and no right of recourse against the decision of the Physics Studies Committee reg. the travel stipends.
In case a travel stipend is awarded, the scholar is obliged to submit a final travel expense form with all the relevant receipts to the UK, at the latest 6 weeks after the return of the funded travel.