Know How and Technology - From the Idea to the Application
The department Technology is part of the engineering department of the Department of Physics and essentially consists of the three subject areas of metallic glasses, probe microscopy and construction of apparatus. The main focus is aimed at the cooperation between academia and industry which is highly application-oriented. We make important contributions within the technology transfer between universities, universities of applied sciences, high schools and industry partners. Also, other services like occupational health and safety, as well as public relations and house services are affiliated to the Technology department.
We give technical support in device developments for scientific applications, mechanical constructions in micro technic or in vacuum technology. In our special workshop we are able to machine materials by ultrasonic power, diamante sawing or glass blower treatments. Furthermore, we offer support in optical microscopy and we are equipped with basic devices for digital imaging and video productions.
Melt Spinner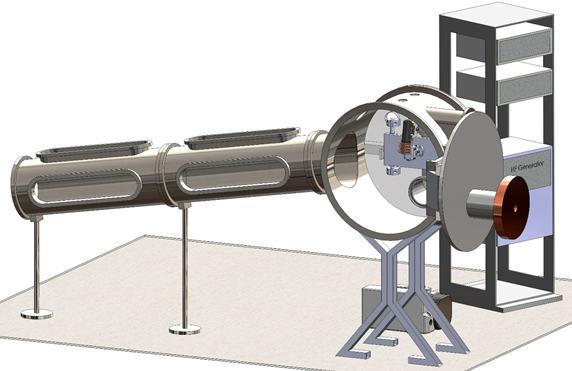 Melt Spinner for the production of metallic glass foil. A new automatized system was design to monitor and controlled the process for the production of metallic glass.
Double electric arc furnace for alloy production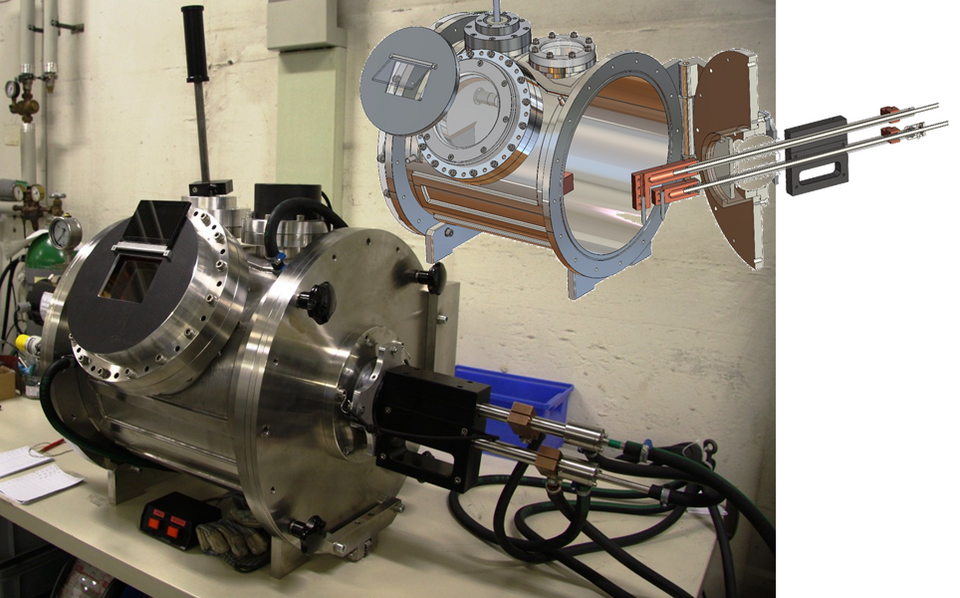 Classical arc furnace for alloy production are using one electrical arc and to have a better control of the melting a double arc was developed and constructed.
Magnetron Sputtering Process
In our facility, we deposit by magnetron sputtering metal, oxide films for several applications. Example are TiAlN for mechanical properties, rhodium for watch industry. Rare-earth oxide surfaces were recently reported to possess intrinsic hydrophobicity in Külah, E., Marot, L., Steiner, R., Romanyuk, A., Jung, T. A., Wäckerlin, A., & Meyer, E. (2017). Surface chemistry of rare-earth oxide surfaces at ambient conditions: reactions with water and hydrocarbons. Scientific Reports, 7, 43369.
Rare earth oxides (red/orange) react with gaseous organic compounds from the ambient air to form carbonates and hydroxides (grey/white). Through this reaction, the surface develops water-repelling properties.
Sun Protection Glasses
M-Glass: Innovative coatings for sun protection glasses based on the theory of optimized spectral transmittance.
These coatings reduce the solar-thermal load of building's interior by one third in comparison to current sun protection glasses on the market. Apart of the comfort improvement for occupants, the energy necessary for cooling of buildings is reduced. Therefore these new coatings can contribute to the measures needed to reduce global climatic changes.
For more information, please click here.
Within several different projects, in close collaboration with Glas Trösch and others, the Department of Physics contributed to develop innovative coatings for the market.
We analyze and examine technical surfaces and more...
As a competent user service lab with main focus on Scanning Probe Microscopy we carry out analytical and user-related investigations on practically all kind of technical surfaces. The lab is also open to students and researchers of other groups within the Physics Department to perform measurements on their own after training. Besides Atomic Force Microscopy (AFM) and Scanning Tunneling Microscopy (STM), other imaging surface technologies like Confocal Laser Scanning Microscopy and Scanning Electron Microscopy (SEM) are also used for our analysis.
While AFM and SEM are powerful instruments to image the surface morphology of a specimen, X-ray photoelectron spectroscopy (XPS) is a widely used method of determining the chemical composition of a surface, this technique is also available for investigation.
In collaboration with the Nano Imaging Lab of the Swiss Nanoscience Institute these other techniques are also available.
The Department of Physics hosts and participates in numerous information, education and physics events of the University, in the region and throughout Switzerland, e.g. Saturday Morning Physics, Infotag, Future Day. There prospective students and the general public can get an insight into the degree programs we offer but also learn about our most recent research results. An overview over the upcoming events you will find here.
In addition to that we organise lectures and/or lab tours for high schools, associations or the general public. In case you would be interested, please contact us.
The technology group organises and/or supports the above mentioned activities especially regarding the technical aspects and the experiments.