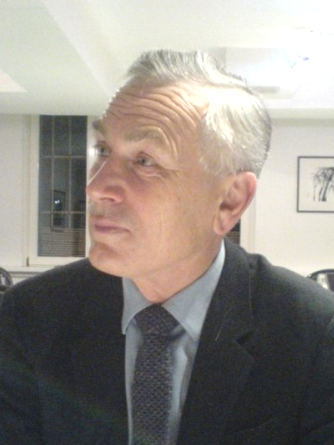 Prof. emer. Dieter W. Pohl
Lecturer at the University of Basel 1998-2008
Titular Professor at the University of Basel 2002-2008
Department of Physics
University of Basel
Klingelbergstrasse 82
4056 Basel, Switzerland
Short Biography
Born 1938, I studied at the Technical Universities of Stuttgart (1958-1964) and of München (TUM, 1964-1968). My diploma and PhD theses were concerned with the just invented (1960) laser [1 - 9]. The fascination of its 'clean' and powerful light gave the direction for my professional life.
I joined the laser group at IBM Zurich Research Laboratory (Rüschlikon) in 1968, studying primarily light scattering and nonlinear processes [10-43]. My research activities were interrupted by an assignment to the Director of Research's staff in Yorktown Heights, N.Y. in 1979/80 which imparted to me valuable insight into the management of a large research organization. The experience helped me later in my function as a group leader in the Rüschlikon physics department and as member of several advisory boards.
After return, the interaction of light with nanometer-size objects came into focus. It emerged from my occupation with the just invented STM which resulted in several STM-[51-58], AFM- [59-62] and instrumental [63-67] investigations. In 1982-1984 we demonstrated the first near-field optical (NFO) microscope [68-70]. It breaks the diffraction barrier of optical microscopy, known as Abbé's resolution limit (~λ/2) by at least a factor of 10. In the following years, NFO microscopy was further explored at IBM [71-105], in particular its relation with surface plasmon polaritons ('plasmonics'). In 1992, I organized together with D. Courjon (U Besancon, France) a workshop on "Near Field Optics" (NFO) that became the mother of the international biennial NFO conference series.
In 1998, I moved to the University of Basel where I became a Titular Professor in 2002. My group participated in the growing field of plasmonics research (comprising NFO)[106-118]. A breakthrough demonstration of optical antenna effects and their nonlinear optical sequelae was the last result before my retirement in 2007/2008 [113,114]. A by-product of this development was the investigation of an ion-conducting glass [110,115] which can be used, among others, as a field emission gun for Ag+ ions [116].
I retired 2007/08 but still keep some contacts with the community of NFO – plasmonics – photonics, in particular with the groups in Switzerland.
Publications and Patents
~ 121 publications (see below)
~ 20 patents, mostly on scanning probe microscopy, micromechanics, storage
+ diverse publications in the IBM Technical Disclosure Bulletin
A complete list of the publications can be downloaded here.
Four relevant publications from my time at the University of Basel are
Near field optics seen as an antenna problem
D. W. Pohl,
in Near-Field Optics: Principles and Applications / The Second Asia-Pacific Workshop on Near Field Optics, Beijing, China October 20 -23, 1999, EDITOR M. Ohtsu and X. Zhu, (World Scientific, ISBN 981-02-4365-0, Singapore,p.9 - 21), 2000 - [111]*
Resonant Optical Antennas
P. Muehlschlegel, H.-J. Eisler, O.J.F. Martin, B. Hecht and D.W. Pohl,
Science 308, 1607 (2005) - [113]*
Single Quantum Dot Coupled to a Scanning Optical Antenna: A Tunable Superemitter
J.N. Farahani, D. W. Pohl, H.-J. Eisler and B. Hecht,
Phys. Rev. Lett. 95, 017402 (2005) - [114]*
Vacuum ion emission from solid electrolytes: An alternative source for focused ion beams
C. Escher, S. Thomann, C. Andreoli, H.-W. Fink, J. Toquant and D. W. Pohl,
Appl. Phys. Lett. 89, 053513 (2006) - [116]*

*Numbers refer to the complete list of publications.
Awards and Honors
1996 Carl-Zeiss Research Award
1997 Rank Prize for Electro-Optics
1999 Humboldt Research Prize
1968-1998 various IBM internal awards
2013 Stern-Gerlach Medal of the German Physical Society
Memberships
Swiss Physical Society
German Physical Society